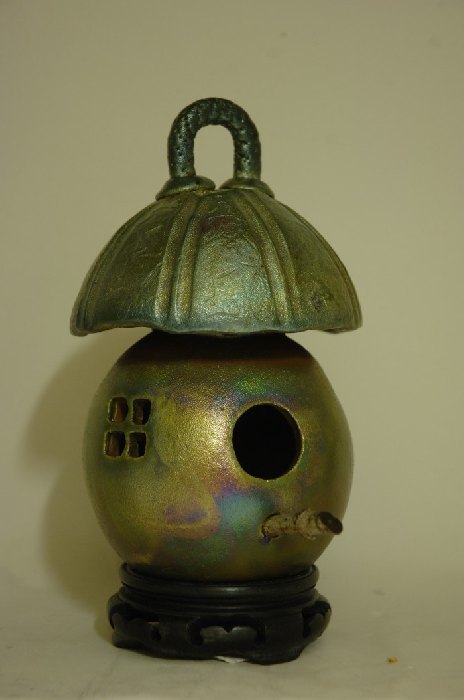 All the bird houses are hand-built and pit-fired (Raku) in an outdoor gas kiln. Each bird house comes with its own unique texture and color. The selections with perches are fitted with different woods collected from Ezra's garden in Kentucky. Some perches are river birch, some rhododendron, and others from the wisteria vine.
Since talking to different wild bird people Ezra has added a selection of houses without perches, and with drainage holes to better accomodate all birds. The holes in the smaller bird houses are suited to Chickadees, Titmice, Nuthatches, and Wrens, while the largest houses can accomodate some woodpeckers, and purple martins.
Ezra's goal is to create practical bird houses that are beautiful while using the bird house as an art form. Each bird house is shaped and uniquely textured by hand using forms, and instruments like walnuts to roll over the body of the bird house, or a meat tenderizer mallet to pound the clay body. A favorte is a Chinese ink stamp with a dragon scroll that creates an interesting texture.
Showing 1 to 4 of 4 (1 Pages)